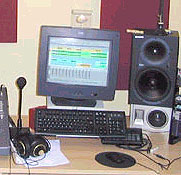 John Galinato
Masters Electrical Engineering Cornell


Naseem Makiya
Harvard 2008


Liu Huan
MIT 2010
Computer Science
from Shanghai, China


Valeria Roman
Science Journalist at El Clarin
from Buenos Aires, Argentina


Seth Mastin
BS Computer Science, MIT
NYU Law School


Lindley Graham
MIT Class of 2010
Aeronautical Engineering
Instructions:
Go to ... http://Build-It-Yourself.webex.com
(Same as "Click here to join a meeting" link above)

Select meeting in progress or wait until host initiates meeting.

Type your first name and email.

Meeting PWD: RobotSushi1 (Capital R and S)

Click on 'Join'

In the Audio Conference pop up window, select 'Use Computer for Audio'

Click on 'Call Using Computer' (Green => Red)
There is an 'Audio Wizard' that may help identify and select your mic and speaker.
Disconnect from Computer Audio. (Turn Red back to Green)
Select 'Audio' on the top menu bar, and then select 'Computer Set up for Audio.'

The Build-It-Yourself Global Laboratory
To help students, parents, teachers and workshop leaders manage projects, Build-It-Yourself offers live and archived Webcasts from a team of creative robotics specialists.
The Webcast platform enables live:


2-way audio.


2-way video.


white board.


program sharing.


chat.