Requirements to join a live Build-It-Yourself Webcast:

We use the Marratech Webcast Platform which is owned by Google.
PC with Windows 2000+ (see below for Vista modification) or Macintosh (OSX Tiger)
Marratech requires a broadband connection with at least 256kbps download speed and 128 kbps upload speed. The faster the computer and the Internet connection the better the experience will be. Marratech works fine over Cable, DSL, T1, FiOS.
A dial up connection will not work.
A cell phone wireless modem connection will not work.
To test your connection speed:
http://www.SpeedTest.net
Some locations have pretty high bandwidth, but if network usage is high, the effective bandwidth to a particular computer may be below 256kbps down / 128kbps up

Typical Network download / upload speeds.
256kbps down 128kbps up Basic DSL/Cable
500kbps down 250kbps up Premium DSL/Cable
1,800kbps down 380kbps up Quality DSL/Cable
1.3mbps down 1.3mbps up Dedicated T1 Line
10mbps down 10 mbps up Intranet LAN
Java 5 Runtime Environment (auto-installed on most recent operating systems. If not, Click here. You will need to reboot after you install Java.)
Marratech Installation on Vista
Vista ships with Java 6. Marratech Webcast program requires Java 5.
Java 5 and 6 can run together.

To install Java 5.0, go to:
http://java.sun.com/products/archive/j2se/5.0_11/index.html
Download the JRE version (NOT the JDK version)
Select "Windows Online Installation (typical download size is ~7.1MB), Multi-language"

Save the installation file in a downloads folder (or on the desktop). Then click on this file to run the installation program. It can take more than 5 minutes to install. (It took almost 5 min to install java 5.0 update 11 on a fast BIY computer.)
FIREWALLS
The following ports must be opened in your firewall:
TCP ports: 80 (for http) and 443 (for https)
UDP ports: 52000 to 52999
These ports should be opened in 'allow-return' mode.
Note that UDP ports 50500 to 50511 must be opened in firewalls that may be in-between parties using 'Direct Call' mode. Direct Call will not work over networks running NAT
Audio Video Options:
See others, text chat only
You need nothing more
See others, text chat plus listen to others:
Sound card and speakers ($30)
See others, text chat, talk and listen to others:
Sound card, speakers and mic ($50) or
Sound card, headset with mic ($40) or
USB Duet PCS noise canceling speaker/mic ($150) Excellent for large rooms.
Duet PCS Audio Control Utility Download on Windows OS if mic audio is low.
See others, text chat, talk, listen and others see you:
Sound card, speakers and Logitech Pro 5000 webcam ($130)
Webcam iSight for Macs ($150)
Optimum Setup:
USB Duet PCS noise canceling speaker/mic ($150)
Logitech Pro 5000 webcam ($80)

Once Headset, Microphone, Webcam, JAVA, and E-Workshop software are installed (make sure your drivers are updated), then click here to install the Webcast client. In the future, you can simply launch the Marratech Webcast client and then copy and paste this URL to get into the Build-It-Yourself room.
http://207.244.118.11:8000
It may take up to 30 seconds before you see a loading screen. When loading is complete, you will see a screen like the one below.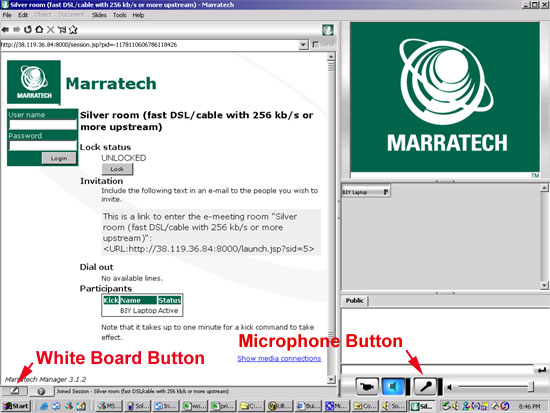 Microphone:
When you click on the microphone button, it will turn red. When you talk, you should see the volume indicator flicker.
You may need to adjust your microphone and speaker volumes. On a Windows computer, go to Start / Settings / Control Panel / Sounds and Multimedia. Select the microphone and speaker drivers you are using. Then adjust the volume controls. A good way to test both microphone and speaker together is to launch your system Sound Recorder.
(Start / Programs / Accessories / Entertainment / Sound Recorder)