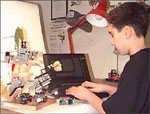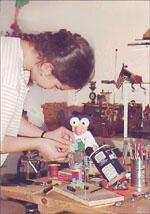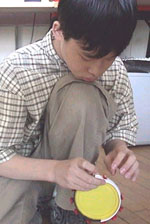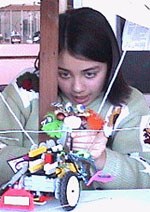 The Media:
The Boston Herald, the Healthy Kids program on FOX TV, The New York Times, and the Lawrence Eagle Tribune, among others have written about the Build-It-Yourself program.
"One can imagine Build-It-Yourself students in later years sliding about a mile down the street to continue their projects at MIT."

Quote from an article in The Improper Bostonian about the Build-It-Yourself laboratory near MIT
The writer of this article foresaw the future ... Build-It-Yourself has written a number of recommendations for its students some of whom are pursuing their studies at Phillips Andover, Choate, MIT, Yale, Dartmouth and Harvard.
"If you can look at what he's done and not smile or laugh, you are a stone."

Ridge White, Editor, The Foghorn, writing about an exhibit of Build-It-Yourself models
Educators:
Educators have made valuable contributions to Build-It-Yourself.
"The goal should be to highlight the 'powerful ideas' in the modules -- that is, the ideas that help you understand how the module works, and provide you with a foundation for building other things."

Professor Mitchel Resnick, from the MIT Media Lab, directing the collaboration between MIT and Build-It-Yourself to develop a database of construction modules
"Build-It-Yourself is a fascinating program that engages students in creative projects to design and build robots. Both of my children --ages 7 and 9-- have participated in Build-It-Yourself workshops and learned greatly from it. It's very interesting pedagogy."

Fernando Reimers, Associate Professor and Director of HGSE's International Education Policy program, describing the Build-It-Yourself program to colleagues at the Harvard Graduate School of Education
"Enormous educational potential"

Program Director, The British Association for Science & Technology
"We visited many universities and programs looking for innovative practices in education. The Build-It-Yourself project-based learning program was among the most interesting."

Professor Manfred Kuenzel from the Faculty Development Center at the University of Bern, Switzerland
Customers:
Kids, parents, teachers and program directors have been loyal Build-It-Yourself customers.
Letter written by David Heckerman, Senior Scientist at Microsoft and parent of a Build-It-Yourself student.
"I never thought my child could draw like that."

Parent reflecting on the results of a Build-It-Yourself workshop
Letter written by Kathy Corbet, mother of a Build-It-Yourself student.
"Thanks for putting on one of the best Robotics workshops that I have been to."

Science teacher at the Jamestown Middle School, RI commenting on a Build-It-Yourself workshop for teachers
"Does your mommy get mad when you put holes in her plastic food containers?"

Young visitor inspecting an exhibit of Build-It-Yourself models which use many objects found around the house
"Build-It-Yourself is like First LEGO League on steroids!"
Build-It-Yourself intern
Reference Programs:


- Greater Lawrence Technical School, Andover, MA
- Shady Hill School, Cambridge, MA
- Buckingham, Brown & Nichols, Cambridge, MA
- The Pierce School, Brookline, MA
- The Park School, Brookline, MA
- Riverside Middle School, Riverside, RI
- Jamestown School, Jamestown, RI
- Cranston Middle School, Cranston, RI
- Renbrook School, West Hartford, CT
- Concord Academy, Concord, MA
- Meadowbrook School, Weston, MA
- Lawrence Academy, Groton, MA
- La Mesa School System, La Mesa, CA

Publications:

Build-It-Yourself wrote a chapter for the Addison Wesley book, Creative Projects with LEGO Mindstorms.

The Build-It-Yourself program was a subject of an NSF grant awarded to Professor Mitchel Resnick at the MIT Media Lab titled Beyond Black Boxes and published in Journal of the Learning Sciences.