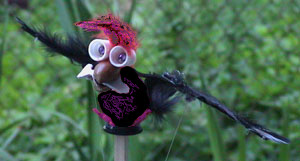 Wing Commander Ranton N. Raven
celebrates Baltimore victory.

January 21, 2013
Ravens Spoil Critters' Party

The Build-It-Yourself Lab was a gloomy scene this morning, as the crew of Critters and Bots awoke to the reality that there would be no big Super Bowl Party this year - a result of the New England Patriots falling to the Baltimore Ravens in the AFC Championship last evening.
While the vast majority of the non-human denizens of the Cambridge workshop prefer the FIRST LEGO League to the NFL, their strong Boston-area roots make them big fans of Tom Brady and his comPatriots. Unfortunately, a combination of key defensive injuries, red zone ineptitude, poor time management and untimely dropped passes put a damper on the fans' expectations of a return to the Super Bowl.
Indeed, there was but one happy creature in the lab, a retired British Air Force officer - Wing Commander Ranton N. Raven. Though "Old Ranty" is partial to the English version of football, he professed delight that " . . . uniformed blackbirds would be playing for the gridiron championship." He was last seen winging about the lab, causing one surly pirate (a Tampa Bay fan) to duck and comment, "Arrgh. What's up with his Lordship? He's usually in a fowl mood."
Baltimore will be facing the San Francisco 49ers for the Vince Lombardi Trophy, emblematic of professional football supremacy. The West Coast team's comeback win over the Atlanta Falcons prevented an all-avian Super Bowl. It also provided some consolation for a few of the Bots in the group - in particular several "mathletes" who thought it exciting that a team would choose integers for a mascot. There was some confusion, however, as to why only one player on the team wears the number 49.
"It's all rather perplexing," commented a Bot fashioned from a recycled coffee can. "Their 25%-back, the one that throws the prolate spheroid, wears the number 7, which as we all know is the square-root of 49. Their 100%-back, the one who carries it, wears 24. It makes no sense. They must not be very good at math."
Despite the overall disappointment, most of the Critters and Bots still plan to catch the championship spectacle on February 3. "We'll still break out the chips and cheese and watch the show," announced a spokesborg. "We love the commercials."